Members Motors
Former Northern Centre Chairman, John Ridyard
Mike asked me to start the ball rolling on member's cars as opposed to wives. Initially I would have described this task as daunting. What can I remember? when did it happen? yes my memory is not what it was, but I will have a go.
If I can recall correctly it was some time in mid-summer 1989 when I first saw Denis in the establishment of Murray, Scot-Nelson of Scarborough on the coast of Yorkshire. Jonathan (one of the owners) had just shipped over a number of Austin Healeys plus a nice little Ferrari from LA.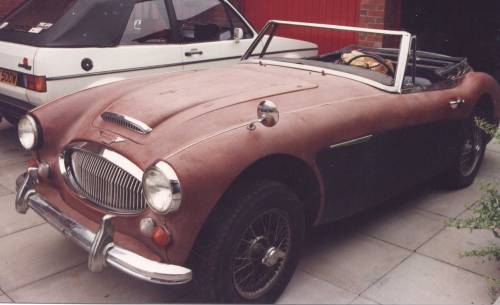 Now Denis was looking a little sad and neglected in one corner of the showroom, minus all of its glass (even the glass of the instruments was missing) and some major organs but apart from the red over black primer (as best described) the car appeared to have a very straight chassis with little or no rust to be seen. The draw back was that it had not been shipped with ether its engine or gearbox, however I was assured that it was on the next boat over to the UK with other bits and pieces. Well being "young" and reckless I decided this car was for me as I could see its potential as a near perfect example of this British classic sports car.
So come the next weekend I duly arrived with a &qout;nearly" suitable towing vehicle (1.8 Carlton automatic) and a very heavy twin axel trailer plus the bank draft. Denis was loaded onto the trailer, luckily in our case without its engine and gearbox, but great care had to be taken on loading loose items into the carcase of the car, no engine and gearbox means big holes into which items can fall through. Undaunted and very happy at buying my new toy, We set off back along the A64 en-route to Cheshire, with no problems until we reached Hartshead on the M62 with that very long hill towards Halifax, you guessed it, the poor Carlton overheated and very nearly blew its gearbox apart with the combined weight of a heavy tow car, trailer, Healey and 3 passengers all pulled by a lowly1.8 ltr engine. Never the less we all arrived home with little or no more trouble en route.
So the next day was a Sunday in mid-summer so what better day to start to strip down Denis into component parts than when you are enthused and have a endless supply of French beer from the Le Mans trip in June. However before getting completely carried away I did have the sense to record in pictures all the important areas and the stages of striptease of Denis.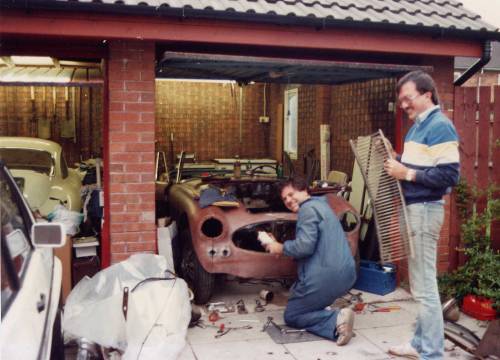 So both I and my good friend and neighbour Paul, started the task of stripping Denis down to its component parts, which were now being bagged, marked carefully and stored away in the loft of my garage above my newly restored Porsche 356B. Well within 1 week, working evenings and the whole of the follow weekend we had it down to a rolling chassis, and there it stood on its wheels for some 14 months, luckily as it turned out.
As to the engine and gearbox, Jonathan rang me some weeks later to inform me of the good news that both items had arrived in the UK and were awaiting for me in Scarborough for collection. Having just an Audi 80 as my daily transport, I again needed to find suitable transport to carry the heavy lumps back to Cheshire. So it was a ring round again and it was a work colleague that kindly lent me a Peugeot 505 estate perfect! In exchange for the Audi, except that the spare keys he lent me did not have the key to the petrol cap, enough said. However I did retrieve the vital missing organs, and joy of joys, the numbers matched the heritage certificate.
Well time marches on and Denis is still a rolling chassis, but in between, Karen and I had decided that living under the flight path to Manchester Airport had more draw backs than benefits, so it was time to move to a more rural habitation, and so it was we moved to Macclesfield in the September of 1990, then you become a logistics expert. Not only, how do you move house and accumulative possessions, but one classic car plus one in a thousand bits (or so it seemed). Answer again was the Peugeot 505 estate plus horse box, so over 2 evenings and possession of the new attached double garage, not only did I moved the 356 and Denis plus parts, I also relocated my prise work bench as well. This did not go un-noticed by my soon to be new neighbours, the daughter of the couple next door, went wild when she thought we had a horse, and were going to graze it on the small front lawn. Then there was the lady opposite who rang the police thinking I was dumping a wreck of a vehicle on the driveway of the house of such a nice couple who were about to move in. Needless say all confusions were soon cleared up and surprisingly we are still talking to one another to this day.
Well a new house means lots of decorating and true enough the first job was to paint the walls and floor of the garage, needless to say Karen my wife still reminds me to this day of how thoughtful and useful such an act was.
Over the winter of 90/91 I completed the strip down of the suspension, running gear and transmission, and sent the components off for powder coating in Farnworth near Bolton Lancs. Next came the fastenings and all things that needed anodising (brackets, bolts, ancillaries etc) these were identified documented and boxed and taken for plating in Stockport. Oh by the way, during this time I purchased the original mechanical parts and body parts manuals from a automobile book dealer in Huddersfield, this was probably my best purchases as it showed everything pertaining to a BJ8 in exploded diagram fashion, completely invaluable when rebuilding a car.
Now at this juncture every thing came to a grinding halt, due mainly to the arrival on the 1st January 1992 of an extra pair of hands in the form of Matthew Richard James Ridyard a bouncing baby boy. So most of that year was now spoken for, however we still had time to go to the many Healey Events and dream of what will be.
1993 brought a new urgency to the rebuild, Denis had been in my possession for nearly 4 years now, and was in more pieces than ever before, but it was at least down to its bare chassis. So it was off to the grit blasters to see what state Denis's underpinnings were like. Fortunately my guess as to its original state was confirmed as being reasonably good, the only perforations within the chassis and inner body were just the boot floor and both front foot wells. Next the freshly blasted car was immediately painted in etch primer to stop the rust worm attacking it again.
So began my very many visits to AH Spares and Northern Healey, plus a very rapid deflation of my (sorry our) bank account. Thus with a new boot floor and other bits of required metal in hand, I began the slow rebuild backup to a running BJ8. The new metal parts were duly welded in place, seams sealed and with a fresh coat of Healey Blue (BU2) we were at last on our way. Another piece of luck made working on Denis much easier. My job had changed or at least my pattern of working hours had changed. I was now working away from Home more, including continental travel but it was a flexi-time working so I had much more time off during the week, enabling me to visit firms on working days, and cope with emergency requirements better. Plus travelling up and down the country enabled me to get the parts en-route without Karen being aware.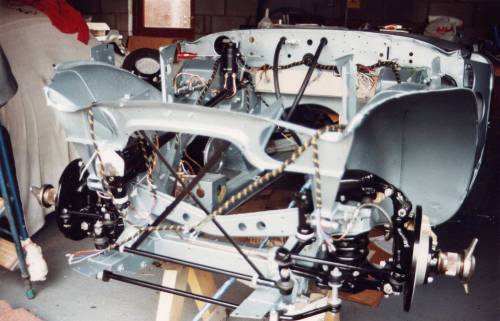 By the May of that year things had progressed a pace in that I had rebuilt the suspension and running gear including the fuel line, braking system plus the wiring loom was now in place. So Denis was now put back on its old wire wheels and yes I had a rolling chassis yet again, some 4 years after the first reincarnation. The only difference was it actually looked as it had on the line at Abingdon, and was now converted to RHD thanks to a Northern Healey Steering box.
I had tried to keep originality where I could, and improve it where I thought it would benefit. Hence the powder coating of the running gear, plus the use of copper piping on the brake system, however whenever possible the original setscrews and bright work were re-anodised to keep as much authenticity as possible.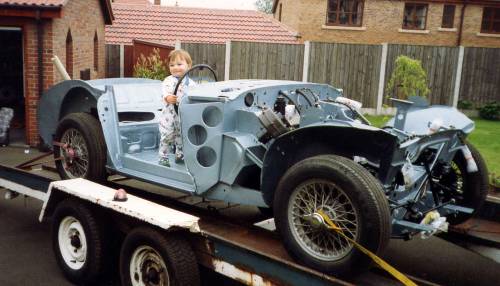 So with the Chassis, rolling again, my thoughts turned to the major organs of Denis namely Engine and gearbox, condition unknown. My only indication was that the speedo read 52K, so I hoped the internals would not be worn too much. However what starts as a rebuild to a reasonable standard turns into a full-blown concourse rebuild. Hence a trip to Northern Healey with said components with a view to a full blue print rebuild with everything balanced. So it was with the help of my Father-in-Law's BX estate and my VW GTI that we transported the said pieces into the hands of Paul Grogan to be fettled.
I was definitely getting carried away with the rebuild now, to the point where I even took a weeks annual leave to spend in the company of the maestro in the guise of a grease monkey helping with the rebuild of both the engine and gearbox at his establishment in Castleford. Now we are talking a round trip of some 120 miles per day plus a travel time of some 3-4hrs, I think I must have been mad, but it was well worth the effort and satisfaction in seeing the big lump of iron coming together into a living, breathing beast of an engine once again, plus I learned an awful lot, especially how to swear in a Yorkshire dialect.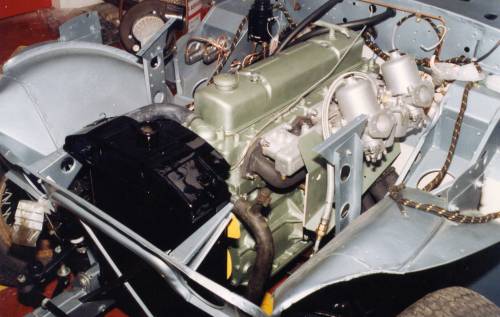 Once again the now gleaming rolling chassis was placed on the trailer and transported over to Castleford for the transplant and fire-up of the Beast. Now it got really exciting, and so it came to pass that with a hot wire, a new exhaust system, carbs, dynamo, starter motor etc and a gallon of petrol, Denis burst into life on the 28th August 1993. I have it all on Video. Things were really moving now, or so I thought, only the body to replace and paint plus fit out, but it was some 12 months latter before I could really say, "it is done and I am satisfied".
I realised fairly early on in this project that I had many limitations, and that if I wanted to achieve a near perfect result then I must entrust various important tasks to the experts. Bodywork and painting was one of them, so I happily entrusted this part to the operation to the experts, which turned out to be the Uncle of the incumbent club social secretary at that time. So again one fine sunny day in September, the rolling chassis complete with engine and gearbox was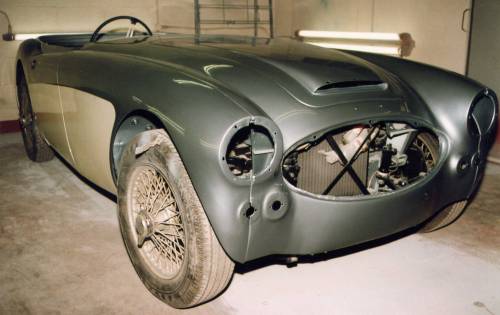 transported to Runcorn in Cheshire on the back of the trailer to be panel fitted and painted Healey Blue over Old English White. Again luck would have it, in that I had come to an arrangement with Brian to work on my rebuild over the winter months as and when the work was slack for him, plus I could pay in instalments as and when work progressed, wonderful if the winter is mild with no ice and not too many accident repairs. I duly provided the panels ready stripped at the appropriate time for fettling. The only repairs needed were two repair panels on the rear wings, some ally repairs to the lower front shroud, and a second hand rear shroud that was in considerably better nick than the cars original.
So some 6 months later the body panels were back on the car painted and gleaming ready to complete the restoration at home. Needless to say I had not been idle over the winter months. Making and yes sewing together some of the various coverings for the panels, preparing seat frames and covering them in leather upholstery. However my real triumph had been with the re-construction of the rear seat back come folding luggage shelf, which had almost disintegrated, but with carefully copying of the wooden frames, re-plating of the hardware plus a leather upholstery kit from AH spares, a new assembly was constructed and even I thought it was better than new, but then I was biased. In addition a fellow "co-worker"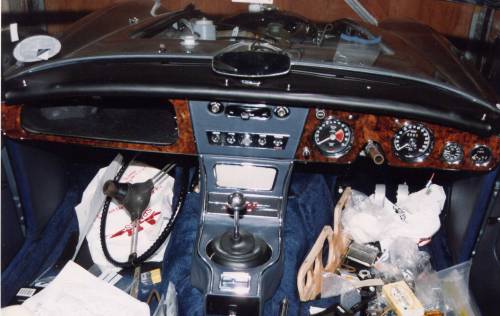 who was also a keen amateur carpenter offered to make a RHD wooden dashboard for me using the pattern of the original LHD article, to be completed in very expensive burr walnut veneer. Being a perfectionist the result was stunning, and well worth my trust in his ability.
I however start to digress, Denis was indeed returned to my garage with all external panels loose so that I could attach the black rubbery barrier tape between the aluminium and the steel panels, the fiddle of fitting the steel beading to the top of the wings, and a final tighten up of the bolts and nuts completed 75% of the panel fit. Boot and bonnet were not attached at this time.
Over the following months the carpets, amourcord, trim panels, seats, glass, dashboard, instruments, lights etc etc were assembled and placed accordingly to the parts catalogue. The Bonnet and Boot plus hardware were then fitted, all that was missing now was the Hood itself, but before I could get this final job completed at Northern Healey the car needed to be officially road worthy with an MOT, registration number and then at that time a purchased current road tax.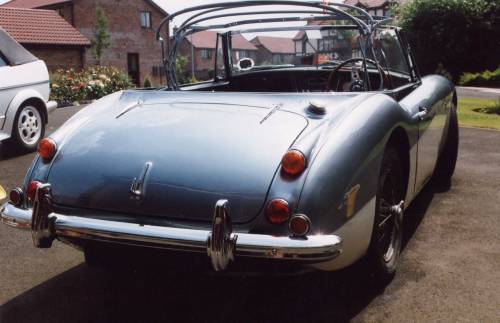 Well the MOT was its first official outing, in glorious sunshine on a warm July day (I believe it was the 6th as that is the anniversary of the insurance) in 1994, to be honest I did not want to return Denis to its garage, and could have quite happily driven all day. That was probably one of the most memorable of experiences in my life (If Karen reads this, then almost the most memorable). I felt that I had personally created this wonderful car, which in a way I had done. I believe people who have done such a project and achieved such results know what I mean. Then it was off to get its age related registration number, which was a trip to the DVLA offices in Chester for a vehicle inspection and basically to get the ticks in the right boxes, no problem until Tarvin on the Chester Road about 5 miles outside Chester on my way there, when the heavens opened, no hood, however a Barbour coat was a poor substitute for a hood and protection for my precious leather trim. It did however eventually stop raining, I did get the plate and tax disc, to be fully legal and eventually dry again.
The final touch was the fitting of the hood, which waited until I had studied the long-range weather forecast for Yorkshire. So a rendezvous was arranged with the trimmer to fit the hood and hood cover, and combine this with an outing to Scarborough with Karen, young Matthew plus bucket and spade, but my mind was not on building sand castles, wading out into the North Sea or walking round Peasholm Park boat lake with a bag of Cod and Chips. Teatime could not come soon enough for the journey back to Castleford, and to pick up the now finally completed Healey.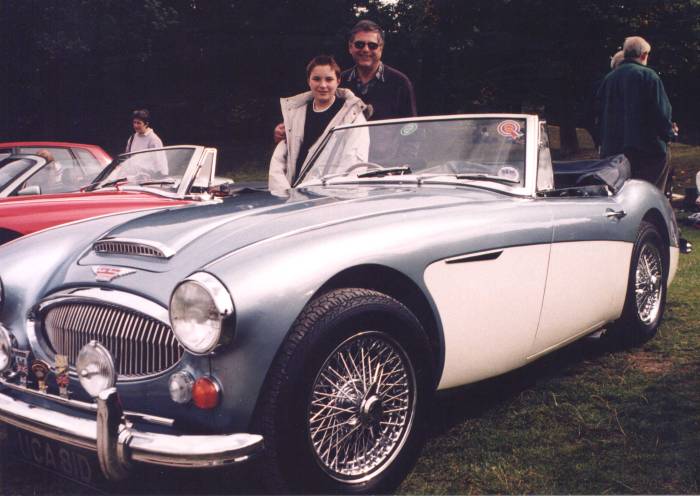 I was not disappointed with the final result that day, and I have not been disappointed since with Denis. We have travelled well over 25,000 miles together since then, with not a cross word said, and always with that sense of excitement and anticipation when we are together, not many partnerships can admit to that. Denis is definitely a part of the family now, and will be handed down to Matthew when the time is right, even though Karen always expected to save on my coffin expenses. Would I do it again? Probably not, at least not to the level attained with Denis.
"But wait a minute there is a young man standing in the wings who loves Healeys almost as much as I do".