Members Motors
Secretary & Treasurer Ivor Davies
MY AUSTIN-HEALEY 100 BN2 Le-Mans Conversion
I am an Austin-Healey lover. I grew up in the 1950s and sports cars from that decade and the following 60s were always my desire. I was probably nudged towards the AH marque by the fact that, at my first job post-University, one of my colleagues had a boyfriend who regularly came to pick her up in an ex-works Healey - a Tino Makinen rally car. I subsequently almost acquired a 100 BN1 but its purchase would have caused a family rift as my Dad, a non-driver, did not approve.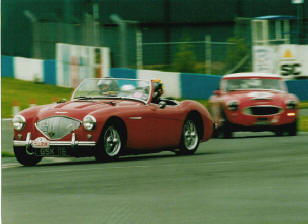 Over the next thirty years my daily-drivers included several that would later become classics including an Alfa 2000GTV, a Dino 246, a Porsche 911E 2.4 and a Porsche Targa 2.7 (if only I had kept them all) but it was not until 1991 that circumstances conspired to allow me to purchase my first truly classic car, an Austin-Healey 3000 BJ8.
I regret that my capabilities as a mechanic are very limited and I am ever in awe of owners capable of undertaking complete restoration projects. However I enjoy tinkering and the BJ8 led me into membership of the Austin-Healey Club and many happy years of classic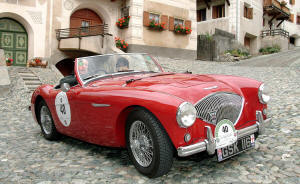 motoring since. In late 1992 a windfall and another rush of blood to the head resulted in my purchase of a second Austin-Healey, a beautiful Reno Red 100 BN2 newly restored to Le Mans Specification. This car soon replaced the BJ8 in my affections and became the one selected to be my classic transport as we hopefully grow older gracefully together.
My ownership of GSK 116 has not been without the usual trials and tribulations that accompany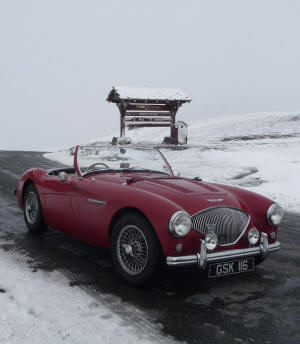 classic car ownership. The car came in concours condition but I quickly learned that looks are only skin deep as I embarked on a long, expensive and character-building exercise in sorting out its performance to match its looks. In the main the bodywork rebuild was superb and remained so, standing the test of the next thirteen years of my ownership. However the mechanical restoration was less than perfect and the car required a complete engine rebuild at the Northern Healey Centre where it has since become a regular visitor for Paul Grogan and his staff's periodic attentions. It has been fitted with improved suspension and treated to regular tweeks using modern performance parts, mainly to satisfy the owner's ego but also to make the car more usable in modern traffic conditions.
As well as regular Austin-Healey Club runs and rallies in the UK each year, we have attended three European AHC meets in Luxembourg, Switzerland and Sweden. Over the winter of 2005/2006 I took GSK to Buenos Aires and covered almost 9000 miles travelling in Argentina, Chile, Paraguay, Brasil and Uruguay. Our party comprised three cars, a 1948 Healey Westland, a 1957 Austin-Healey 100-6 and my 1956 100, and all three performed admirably. The gripa (graded dirt) roads encountered in southern Argentina caused severe damage to our chassis and bodywork and we suffered several traumas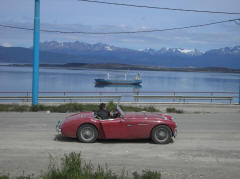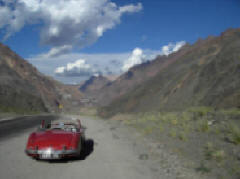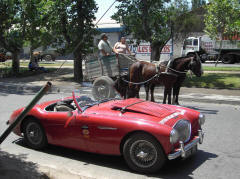 including a detached bonnet and broken screen on theWestland, a broken exhaust and fuel pump on the 100-6, and overheating problems, electrical charging faults and a loss of overdrive on the 100. But we made it and both GSK and I have tales to tell of an adventure we shared.
Unfortunately the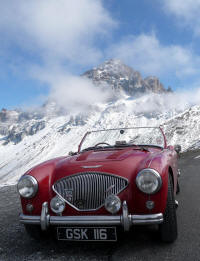 chassis damage proved considerable so in 2007 GSK returned to Northern Healey for a second rebuild, complete with chassis upgrades to hopefully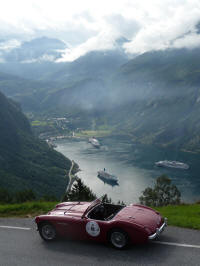 prevent a recurrence of the problems encountered in Patagonia, and I am now assured by Paul that she will see me out so to speak. GSK has now covered over 60000 miles in my ownership. Annual insurance mileage has been steadily increased from 1500 through 5000 to unlimited and last year we did trips to Scotland, to southern Spain, to Le Mans for the Classic event and to the Alps to follow La Route des Grandes Alpes. Each year we seem to manage a few more miles together and I find that, as modern traffic gets worse, the Healey driving experience gets comparatively better in that we can have fun at almost legal speeds without continually running the risk of losing my driving licence. GSK is no longer concours but she is a totally sorted and useable classic that I would have no qualms about taking anywhere in the world. With a bit of luck I am going to do my best to make sure we travel some more of it together soon.
Name Ivor Davies
Age 65
Occupation Semi-retired Landscape Contractor
First Classic Austin-Healey 3000 BJ8
Dream Classic Austin-Healey 100S
Best Trip Six weeks around southern South America (Che Davies' Austin Healey Diaries)
Most miles in a day 626 from Mehuin to Vina del Mar in Chile (too far!).
This is an article written by Ivor in February 2011 that was published in Classic and Sportscar in their "My Classic" feature. Ivor has kindly allowed us to reprint the article here.