HELP for HEALEYS ... LARGE and SMALL STANDARD/MODIFIED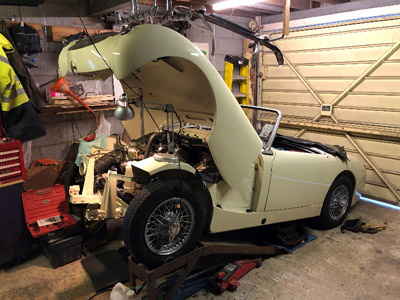 Ask your Question to a FULLY QUALIFIED MOTOR ENGINEER with over 30 years experience of all things Healey
Dave Sinclair IEng. LCG. has kindly agreed to act as the AHC Northern Centre Technical Adviser utilising his many years as a professional motor engineer and as a long standing Classic car restorer and maintainer. Dave owns Healey's, both big and small and over time has owned many other classics. His experience in maintenance and restoring the Healey and other marques is broad and extensive. He generously gives some of his time to local colleges to educate and inform youngsters in their early exposure to car mechanics.
If you would like some advice on a technical issue with your Healey, then Dave is the guy to ask. Please read the disclaimer below and then click on the link at the foot of the page to make initial contact with Dave by email. Include your Car Type, your question and your contact telephone number. Dave will get back to you at a convenient time and arrange to help.
Dave will use the queries and his advice from time to time to produce and publish articles in the Club's various media formats to help and inform other members with similar issues.
Disclaimer
Any advice given by the AHC Northern Centre Technical Adviser is given purely as guidance from one club member to another. Anyone receiving such advice, is solely responsible for deciding if the advice is suitable and appropriate for:
their car and their maintenance issue,
their skill and experience in car maintenance,
their physical ability to conduct maintenance on a motor vehicle, and
the safety of the car, themselves, passengers or third parties as a result of accepting that advice.
The Austin Healey Club or its Officers cannot be held liable for death, injury, loss or damage from the above, however caused, and the advice given does not imply recommendation by the Club or its Officers.