Past Events
Tatton Park Classic Car Show - 2/3 June 2018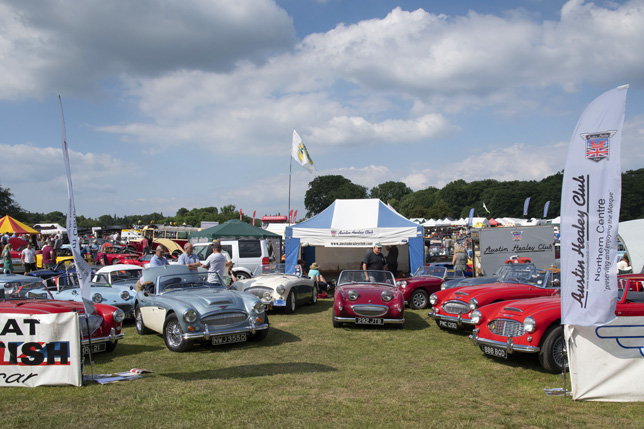 Sizzling Tatton Park
Tatton Park in Cheshire is the venue for two fantastic classic cars shows every summer and has been supported by The Northern Centre for over twenty-five years. This year was no exception and the Austin Healey stand was crammed to capacity with our club cars. It is a smashing event and a great opportunity to meet up with old friends and promote the club by chatting to all the visitors to our stand.
The questions and stories from non-members is always interesting, I just wish I had a pound for every one that pointed to a Frogeye and claimed, "I used to have one of those".
"Would it be OK for me to drill the back shroud to fit a boot rack?" The mind boggles!
The weather on Sunday this year was perfect, blue sky with white fluffy clouds and more than comfortably warm. In fact, Robert & Joe looked a little too hot as they slaved over the BBQ cooking breakfast and lunch for all, thanks chaps.
The perfect 3000 mk111 owned by Bernard took the trophy for best classic sports car and Robert collected our trophy for the best stand. The judge said walking onto our stand was like walking back in time, he was very complimentary. There is still time to request your tickets for the August event from Mike Stonier so do it today and do not miss the next Tatton show and brilliant weekend of Healey fun.
John Bowman