Past Events
May Bank Holiday Weekend - Anglesey - 30th April - 2nd May 2016
Austin Healey Club (Northern) - May Bank Holiday Weekend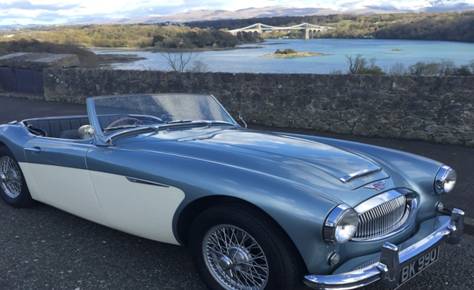 Where to start, having arrived on Thursday to setup for the weekend in "reasonable" weather we awoke in the morning to fine dry weather on Anglesey. I have been told that weather on Anglesey is never the same as the main land and it was true today as we looked out towards Snowdonia beyond the mountain range the weather was quite different. As midday arrived and guests started to arrive it was clear that many had experienced all four seasons in one day with snow and heavy rain featuring strongly amongst the comments. We welcomed them and helped them settle in assuring them of better times to come. During the course of the day I had the fortune to meet a local chap who recommended to me that if I was going near Snowdon I should do it Saturday as Sunday would be a bad day to go. I made the decision to change the days around doing the Sunday run on Saturday and the Saturday run on Sunday and what a fortunate thing that I did. At the welcome meeting prior to dinner over a glass of sparkling, I briefed the troops on the change to the order of march and we sat down to a very nice buffet meal that everyone said they enjoyed.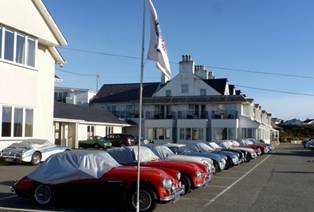 Saturday arrived and just as I had been advised was lovely with bright sunshine although a little windy and coldish. The snow was visible around the top of Snowdon in the distance but I took the fact that we could see it as a good sign. A good breakfast was enjoyed and guests started to depart on the run. We stood guard at the gate to ensure everyone was clear that today was Sunday and tomorrow was Saturday as far as the route book was concerned. It was clear they had all listened at the briefing the night before (message here tell them before they drink and all will be fine). Caroline and I waited until they had all departed and then set off to follow them. We didn't get very far when we came across a breakdown -Emrys & Pauline Jones in their Sprite had sprung a leaky bottom hose. Emrys said that all he need was a moggi 1000 as they have the same bottom hose fitted. As we sat at the petrol station that had a shop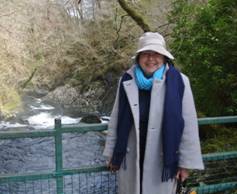 that appeared to sell everything except a bottom hose for a moggi 1000, along came a chap and seeing the bonnet up on the car stuck his head in and asked what the problem was. Emrys explained the situation and the possible solution (moggie 1000 bottom hose). The chap said I have a scrap one behind the garage across the road and you can have the bottom hose if it is okay and you take it off yourself. A quick decant across the road and 60 mins or so later and the Jones's were back on the road.
Caroline and I led and cut a small corner off the route to put them back on track for the day. The thing about Tulip route books is no matter how many times you drive the route (and we did a few) you never know if people will get it so I was rather pleased on my return to the hotel to receive very positive feedback about how good the route had been. There was one participant whose name shall not be mentioned who commented that after changing drivers in their car at Bodnant Gardens they found themselves on a 1 in 4 with a hairpin bend after just 20 mins driving. Apparently they had considered my castration on their return to the hotel but time as they say is a great healer and their mood had changed by the time they got back. Everyone felt that the road run had been a great experience with great views and traffic free roads all day.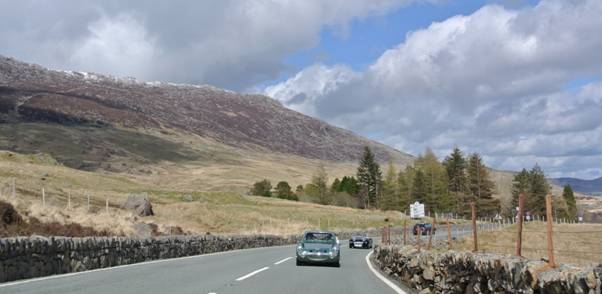 The Saturday evening was the Gala Dinner, Charity Cornish Auction and Live entertainment. The food was fantastic and the charity auction was very successful raising £600 for charities put forward by Barbara Birkinshaw in memory of David. It was the highest amount ever raised on a Northern Weekend and a great tribute to David, we wish to thank everyone for their contributions of gifts and a special thanks to Ahead4Healeys and AH Spares for their very kind donations to the event. The night was rounded off by Ben Gerrard, a Michael Buble tribute vocalist who certainly got the interest of the ladies with his smooth voice and smoother hips (so I am told).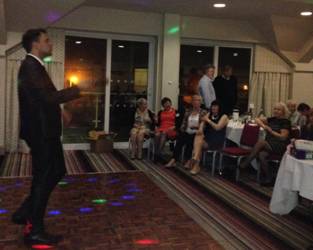 Sunday came as no surprise and the weather was poor to start but as we had changed the programme around it meant a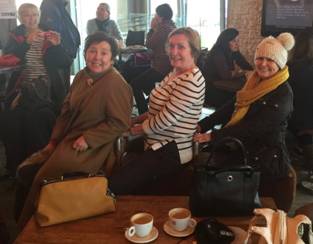 quiet morning with guests meeting at lunch time at the Oyster Catcher. If you ever go to Anglesey it is a must visit location. A fine building with fine dining fair and something a little bit different to what you would expect to see. I had been told by my local man that it was possible that things would improve from lunch time, particularly on Anglesey and that proved to be the case so many guests ventured out to do the Saturday route on Sunday and again returned to the hotel praising it as a very well worked out route.
Our thanks go out to Paul Johnson who was responsible for this route and the route to the Oyster Catcher for lunch. Without his help it would not have been possible to put the weekend together.
Sunday evening was a Sunday Roast followed by thank-you's and the Concours awards. There were six awards in total which were won by the following:-
| | | |
| --- | --- | --- |
| Emrys Jones - Best Sprite | Phil Gardener - Best 100/4 | Ian Gowanloch - Best 100/6 / 3000 |
| John Keener - Best BJ7 | Steve Higginson - Best BJ8 | Pauline Jones - Best Trim |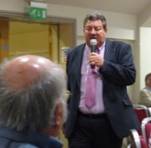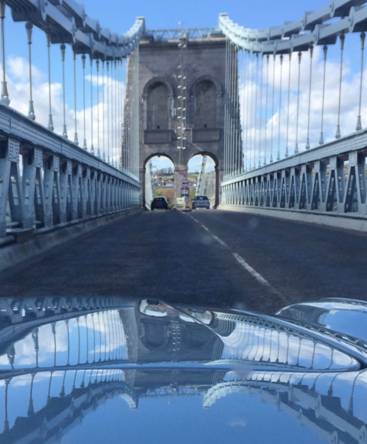 Following the awards everyone was treated to an hour's side splitting entertainment from Austin Knight a very funny comedian who had everyone in stitches with his act which was risky but not rude.
Monday the weather on Anglesey was brilliant sunshine again but that didn't turn out to be the case for everyone travelling home and feedback has been that many had very poor weather on their homeward / onward journeys.
We had great trepidation before agreeing to organise this weekend. Over the years in my job I believed you are as good as your next "you know what" and you should always quit while you are ahead and we were concerned that we would not live up to everyone's expectations following on from Crieff in 2013. However after the ball is over as they say we are so pleased that we did take this weekend on and we are encouraged by the comments of those who attended the weekend to do another one next year.
So those that attended this year we look forward to seeing you again at the beginning of May next year "put it in your diary now". Anyone who didn't make it this year perhaps we will see you next year and will extend a very "warm" welcome to you all if you make trip "up North".
One final thank you must go to Caroline my wife who works her socks off supporting me with everything we do - Love you XX
Tony Curran