X

<

>
Past Events
May Bank Holiday Weekend - Scottish Borders - 3rd-6th May 2019
Austin Healey Club Northern Centre Scottish Borders Weekend 2019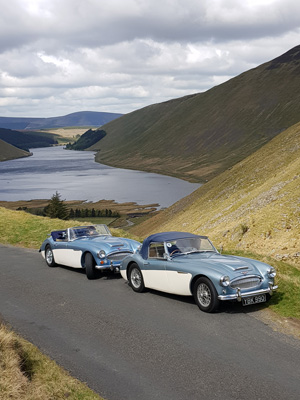 This year our weekend took place on third to sixth of May and was organised by Paul and Jacqui Johnson and Mike and Bernadette Stonier. The event was held in the Scottish borders based at the Dryburgh Abbey hotel. The original building was built in 1845 as the private residence of the Baillie family. The hotel is well situated being yards from the abbey ruins with the final resting places of Field Marshal Haig and Walter Scott and on the banks of the River Tweed. The facilities were excellent particularly the 11 acre site and the leisure centre and well stocked bar and the hotel is to be congratulated on its warm welcome and level of service. There were many comments on how helpful the staff were in meeting everybody's needs.
The Participants arrived on Friday afternoon. The popularity of this event was such that the whole hotel was booked, some 38 rooms. The weather was kind throughout the weekend though cold and on occasion showery and this contributed to a most enjoyable event. Most enjoyed drinks in the bar prior to an excellent dinner, catching up with old friends and making new ones and this revelry continued after dinner and into the small hours for some.
On Saturday 4 May following a hearty breakfast there was a planned drive. This took us into the Tweedsmuir hills and upper Tweedale passing St Mary's Loch and there was an afternoon stop at Lovat Tweed mill in Hawick where the owners Stephen and Alan provided excellent refreshments including tea and coffee, carrot, chocolate and ginger cake and shortbread biscuits. There was a tour of the mill in groups of 8 to 10 which was hugely interesting as these are the premier weavers in Scotland supplying both estate and regimental tweeds and also Madonna's exclusive Tweed and many members took this opportunity to buy some traditional tweed items such as shawls and scarves caps etcetera In the evening the hotel again provided an excellent meal and we were entertained by a Nikki a singer who was accompanied by much enthusiastic dancing.
On Sunday fifth of May again after a hearty breakfast there was another planned drive taking us through the Cheviot Hills and Northumberland National Park. A weekend road closure did not daunt our trusty organiser Paul Johnson who had spent part of the evening before planning a reroute. Again the roads were narrow, steep and bending, in fact excellent roads on which to put our cars and drivers to the test. The participants were free to take lunch whenever they wished to stop and when they spotted a public house or teashop of their choice..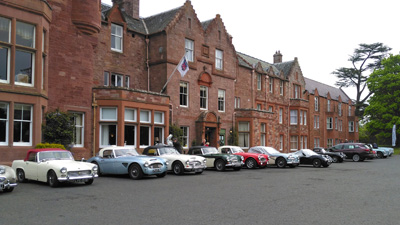 On returning to the hotel the traditional concourse competition was held and all the cars on the event were entered by default. Everyone on the event became judges and helped to select the winners in each category. Winners were to be announced and prizes awarded that evening by our Chairman and our Northern Centre Director.
In the evening the gala dinner was held giving everybody an opportunity to dress up. There was a sparkling wine reception, wine on the table and a special pre selected menu which everybody seemed to enjoy. This was followed with our prize-giving, details of which are included below. Our Northern Centre Chairman Paul Johnson was the final adjudicator, responsible for checking the final voting. There was also a Cornish raffle whereby more than 60 prizes were donated by participants in the event and Caroline Curran assisted with drawing tickets and handing out prizes. In total the sum of £640 was raised to be divided equally amongst the Cancer Research Uk and the Scottish Borders Search and Rescue Unit.
The following day many participants made their way home however a large number extended their stay and spent a very enjoyable day exploring nearby attractions such as the William Wallace memorial, Mary Queen of Scots House in Jedburgh and further afield the island of Lindisfarne.
All in all I think that this weekend was enjoyed by all, it was of course aided by an excellent choice of venue and well organised runs. Our thanks also go to AH spares, Autoglym, and Clarins their kind donations and to Jacqui for her delicious cakes. Next year we plan to venture into the Peak District and further details will be published in due course.
| Category | Car | Owner |
| --- | --- | --- |
| Sprite | 616 YUU | Pauline and Emrys Jones |
| 100 | YPH 142 | Michael and Bernadette Stonier |
| 100/6 3000 | YBK 990 | Jonathan Sands |
| BJ7 | PAG 387A | John Tevlin |
| BJ8 | JWE 213C | Steve and Jan Higginson |
| Best trim | 616 YUU | Pauline and Emrys Jones |