Tatton Park, Cheshire. The venue of many successful classic car shows in the past, had the weather organised to perfection. Our marque did us proud on this occasion and on the Saturday sixteen Healeys, eleven big ones and five bugeyed ones turned out and gave us the third prize in the club stand awards.

The BBQ, once again proved to be the icing on the cake for attending members, and our thanks to the Curran's - Tony, Caroline and Matthew must be recorded once again for their greatly appreciated efforts.


Now we have achieved number one stand in the past, and could do so again, members should make particular note in their diaries of the next Tatton ( there are two every year ) of 16th &17th August 2003. Hopefully, John Ridyard, will be organising a few extra spaces as we were pushing our capacity limit - even if you are a foreigner from a more Southerly region, please join us, you will not be disappointed at the hospitality and it is a great weekend out.


This invitation is endorsed by our respected Chairman, who can be viewed to the left in relaxed mode, incognito specs and beer can in hand, his suntanned calves bearing witness to the perfection of the weather conditions.
Cheshire's answer to JR always has his camera ready for the odd chance of a pic of fellow member's misfortunes. There is a dipstick award to be given every year at Northern Centre, and a prospective candidate for this award appeared out of the blue.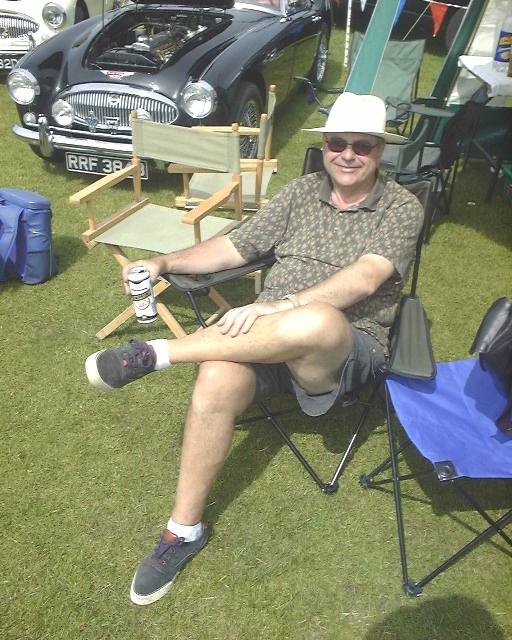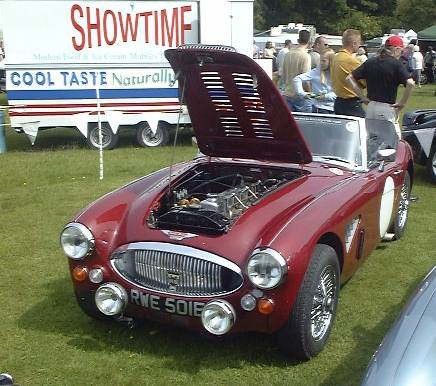 On display was webmaster Mike Smith's rally replica BJ8, now modified back to a soft top (click here to see original) A winter of Healey mods and the incorporation of XJS seats may not have pleased the purists, but all comments were fairly positive, and it sure is comfortable to drive..
Here is what the seats look like. (Click to enlarge.)