X
Past Events
May Bank Holiday Weekend - Coast to Coast - 28th April - 1st May 2017
COAST-TO-COAST ON THE NORTHERN CENTRE MAY BANK HOLIDAY WEEKEND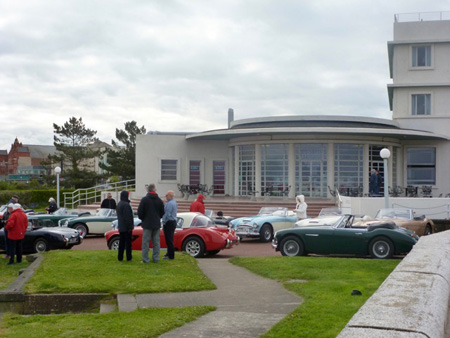 The simple fix to GSK's minor gearbox problem proved to be a little more complex than initially anticipated (of course) but ultimately well worthwhile because it saved what could have been serious expenditure in the future. The gearbox required the replacement of a broken selector and worn selector shafts to effect the repairs together with bearings and seals for ease of mind but the potentially serious problem was lurking in the overdrive where the gear teeth in the annulus, whilst showing perfectly even wear, were worn down to the point were they could shortly start to break up and cause, presumably, catastrophic damage. With a new annulus and planet gears together with seals and bearings, the overdrive should now be good for the foreseeable future. On checking my records I found that it has been almost 50,000 miles of fairly hard motoring since the gearbox was rebuilt with straight-cut gears and the overdrive was refurbished in 2007. Apart from the transmission issues the remainder of Northern Healey's work was fairly routine servicing and this year GSK was returned to my garage well in time for our Northern Centre May Bank Holiday Weekend, which was to comprise a Coast-to-Coast drive across from Morecambe to Whitby.
As we pulled out of our close to head up to Lancaster on Friday for the first night of the event, GSK chose to remind me not to be too complacent as the indicators failed and the fuel gauge died. We turned back into our drive with me quietly cursing because the round tupperware container that holds spares including fuses is buried under the spare wheel and its access requires me to almost completely empty the boot. Fortunately that wasn't necessary because I checked the fuse box first and cleaning and rotating the fuses brought the errant indicators and fuel gauge back into service. So at the second time of asking we headed north up the M6 to the Lancaster House Hotel and spent a pleasant evening catching up with Healeying friends again. Most people arrived safely but Dave and Lesley Wheeler had a frightening incident, a very near miss, on the A5 where they were dealt a glancing blow to their rear offside wing and bumper by an oncoming Mondeo that then almost collected Ed and Gill Friend who were following in the Southern Counties Convoy. The Mondeo driver was extremely fortunate in missing a head-on with Ed and in managing to stay on the road at all. He must have been in some way illegal because he fled the scene at undiminished speed leaving poor Dave to explain the circumstances to the police (later in the evening once he managed to ascertain which force to contact and found a telephone number that was first answered and then dealt with non-emergencies) and to his insurers to sort out the necessary repairs to his BJ7. Not a good start to the weekend for them but at least they later enjoyed lunch at the Inn at Whitwell and their drive over the Trough of Bowland to Lancaster.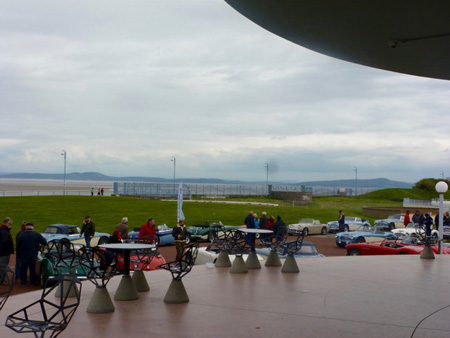 The following morning was bright but cool as we drove to Morecambe for the official start of our Coast-to-Coast route at the iconic art-deco Midland Hotel on the seafront. From the start we made the second of our two navigation errors (we were glad to get them out of the way early on the event). The first was on leaving the Lancaster House Hotel when, at the traffic lights where we were expecting to turn right, we were shouted directions from a pedestrian in a broad lancastrian accent "they went thataway" pointing to our left. Of course we went left and almost immediately met the Southern Counties Convoy led by Dave coming the other way. I can only assume that Dave's near miss was still causing him angst and that his normally sound navigational skills had temporarily deserted him. Our second was on leaving the Midland Hotel where we followed Robert Thornburrow in his Frog and Mike and Bernadette Stonier in their BJ7 and it was only at the end of the promenade that we realised they were not following the route book. Robert, driving on his own, had decided to use Tom-Tom and Mike had decided to follow him for an easy life. We stayed with them until we rejoined the "official" route at Ingleton heading over the moors to Hawes, minded to be a little more alert in the future.
The 115-mile route continued through Leyburn, Bedale and Northallerton to the North Sea coast at Sandsend just north of Whitby. Ed Friend pronounced it to be one of the best routes he has ever driven in his Healey. I wouldn't go quite that far but it was certainly a good days' Healeying. Our Hotel for the next two nights was the Raithwaite Estate Hotel and that was some find by event organiser, our Club Chairman, Tony Curran. It has a variety of accommodation and comprehensive facilities in the extensive grounds of the Estate and served our purposes admirably. Before leaving Lancaster we were invited to leave our luggage in the hotel foyer for transport to Raithwaite. I wondered why, having always thought that "if you can't fit it in your Healey you shouldn't bring it"! When we arrived at Raithwaite the car park was some distance from the foyer and it was a nice touch to find our luggage already in our rooms, so many thanks to Matthew Curran who loaded the bags into the club trailer and distributed them to our rooms. Transport is of course what Tony and Matthew did and does professionally so we should have expected them to get it right and they did. Dinner on Saturday evening was followed by music from a Gary Barlow look-alike/sound-alike/ tribute act and those with energy to spare after the days' drive boogied the night away.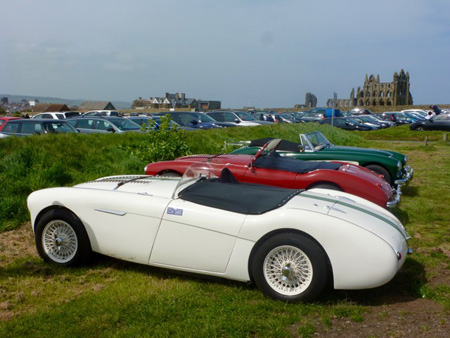 On Sunday we had the option to drive a shorter, 60-mile route "Exploring the North York Moors" planned by Paul Johnson. In the continuing bright but cool weather conditions it was, for Pam and I at least, a near-perfect drive despite having to share a significant portion of the route with cyclists on some sort of event. They no doubt thought the same of us as we thought of them but I think we managed to co-exist on the country lanes reasonably amicably. We visited Whitby and even managed to find a table for a fish-and-chip lunch despite the town being very busy on the Bank Holiday. In the evening our gala dinner was followed by a Cornish Auction where Tony was ably assisted by his grandsons in drawing the tickets and distributing the prizes. George and Henry were on great form and entertained us royaly. Amongst the auction prizes was a Ferrari cap signed by Sebastian Vettel and Kimi Raikkonen that was very generously donated by Paul and Chris Lovett. It was decided to auction this separately and the hammer fell at a joint bid of £200.00 from Dave Haslam and Tim Valentine. The proceeds raised, a total of £700.00, will be donated to The Yorkshire Air Ambulance Charity and to The Chordoma Foundation UK., a charity funding research into bone cancer and chosen in support of two of our members whose grandson has the condition.
After the auction came the prizes for the Koncours, the peoples' choices of the cars of the weekend. The first award was for the 100 Shield that I had been keeping safe for last year's winner Phil Gardener. It's a shame that my memory is not in as good fettle as my Healey and just as well that GSK won the prize because I had in fact left the trophy at home on my study window ledge - after chrome cleaning the shields and polishing it up ready to go may I add! There followed trophies and shields for The Best Sprite won by Pauline Jones, The Best 1006/3000 won by Simon Gibeon, The Best BJ7 won by our AHC Vice-Chairman John Keener, The Best BJ8 won for the second year in a row by Steve Higginson, and The Best Trim won by Martin Booth. Unfortunately John Keener was taken ill shortly before dinner and was not able to accept his trophy in person. Fortunately we had a doctor in the house and Simon Gibeon attended him before paramedics took over and sent him to Middlesborough hospital. John was discharged the following day but he is, two weeks later, still under day care and awaiting test results. Hopefully he is on the road to a full recovery and will be back in attendance at AHC events soon. I know he is extremely grateful to the Currans as they managed to drive Tony's Healey home together with Mathew's car and trailer allowing Tony to drive John's car back home to Amersham for him.
As the formal proceedings of the evening came to a close my trusty compact camera, that has shared many adventures with me around the world for longer than I care to remember, chose to give up the ghost. It expired after the last photograph of the evening, one of our weekend organisers, the Currans and the Johnsons, being presented with tokens of our gratitude by Pauline Jones. I would not care to speculate on the reason why but in these days of digital hi-tec I doubt it will be worth considering a repair. On checking the photos and arranging them for this article I note that the quality, especially of the indoor shots at the dinner, are a little fuzzy and not up to my normal standards. I apologise for that and hope for your understanding.

Pauline Jones - Best Sprite

Steve Higginson - Best BJ8

Martin Booth - Best

Dave' new cap

The signed Ferrari cap

Simon Gibeon - Best 100-6/3000

Team C2C
So, all too soon as usual, the event was over and we formed small groups to wend our ways home. It was a wonderful weekend and we are indebted to Tony and Caroline, Mathew and Nicola, and Paul and Jacquie for all their much-appreciated efforts. Most of our cars stayed the course. Dave Wheeler's BJ7 sported the scars of his accident for the whole of the event, George Waddington's BJ8 suffered electrical problems that, with the able help of Emrys Jones and Paul Johnson, were fixed by the fitting of a new condenser, and Mark and Laura Whitford's Sprite's fuel pump failed as they left for home necessitating a call to their breakdown insurers and a trip home on the back of a recovery truck. Relatively minor problems for 50 to 60-odd years old cars!
As an aside I would say that, fingers-crossed, GSK ran perfectly and is now straining to get back on the road again for Scotland later in May. Also, the front-cover picture of ARX 91B in this month's, May's, Rev Counter reminded me of one of the reasons why I blundered into Healeying in the first place. It was because the then-owner Ted Worswick used to occasionally visit the North Cheshire Area Planning Office, Byroe House in Altrincham, where I was briefly employed with a proper job, to pick up his girlfriend, one of my work colleagues, and, even in those dim and distant days of the late 60s, it cut an unforgettable red dash in the car park. Without that inspiration who knows where I would have been led but I certainly have no regrets.
Ivor Davies